REOXCEL Fibril
Oksidized Regenerated Cellulose (ORC)
Bactericidal effects against 40 types of microorganism

Coagulation within 3-4 minutes

Complete absorption within 7-14 days

Absorption in implantation areas without tissue reaction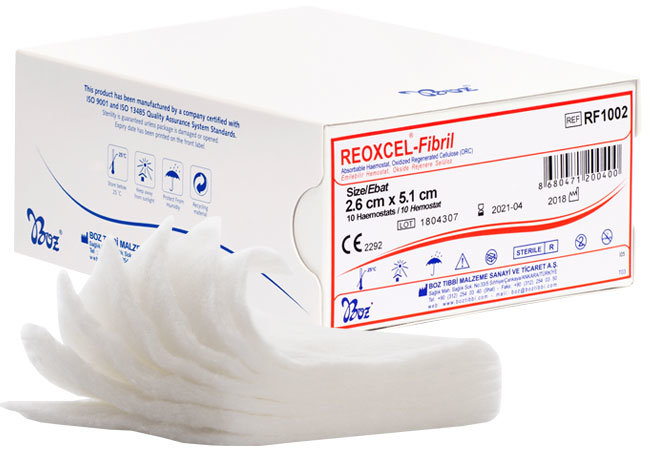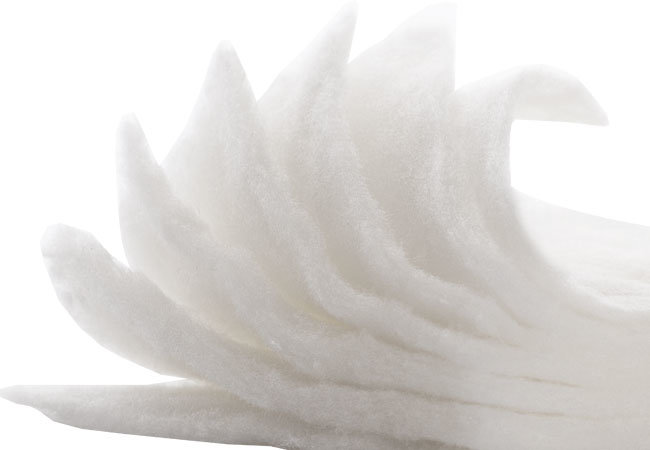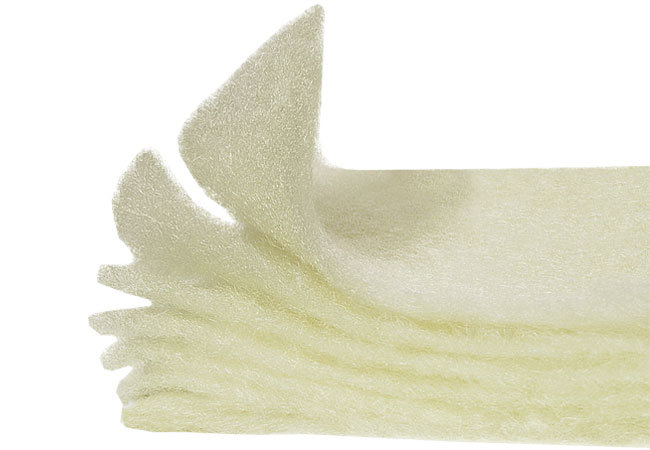 Reoxcel Fibril absorbable hemostat is a sterile hemostatic preparade with fibre textile structure made from oxidised regenerated cellulose (ORC) (polyanhydride glucuronic acid). Reoxcel Fibril absorbable hemostat is compliant with USP American Pharmacopeia "Oxidised Regenerated Cellulose" standard requirements. Reoxcel Fibril absorbable hemostat has no animal or chalcogen additive substances. This hemostat can be sutured and cut without any wear.
It has durable structure and should be stored at controlled room temperature. It has light yellow colour and slight caramel-like odour. There could be slight colour change in time but this will not impact the performance. Due to fibred structure, surgeon can handle adequate amount of Reoxcel Fibril absorbable hemostat to enable hemostasis at certain bleeding area. This enables surgeon to reach gyros areas. Reoxcel Fibril absorbable hemostat can be used at desired amount and braid of selected fibres are intact. There is no undesired dismantling at operation area.
Reoxcel Fibril Usage Area
Reoxcel Fibril absorbable hemostat is designed to stop bleeding in capillary bleeding, parenchymatous organ bleeding, and bleeding in reaction areas during surgical operations. This hemostat is used when other hemostatic procedures are non-applicable. It has wide usage area. It can be used in important surgical operations.
General
Surgery

Digestive System
Surgery

Neurosurgery
Operations

Liver
Operations

Orthopaedics
Operations

Gynaecology
Operations

Urology
Operations

Stomatology
Operations
Throat
Operations

Nasal
Operations

Traumatology
Surgery

Cardiovascular
Surgery

Face and Jaw
Surgery

Lung
Operations

Gall Bladder
Operations

Biopsy
Operations
These hemostats are suitable for all other surgical fields including general surgery, intestine system surgery, neurosurgery (especially brain operations), plastic surgery, orthopaedics, gynaecology, urology, stomatology, otorhinolaryngology operations, traumatology, thyroid operations, skin transplantations, superficial injuries and cardiovascular operations, vascular prosthetics operations, haemorrhoidectomy, biopsy, liver and gall bladder operations, gastric resections, thoracic and abdominal sympathectomy, thyroid operations, skin transplantations, and superficial injuries. Reoxcel Fibril absorbable hemostat can be applied to cavities (after tumour scraping) as well as endoscopic operations and dental applications.
Please report any types of problems and issues related with Reoxcel Fibril Absorbable Hemostat product.